| | |
| --- | --- |
| | We have made various changes in our cleaning processes after installing a system, and we have had trouble. When we install a new system, we want to be able to use it for a long time. |
---
An independent module system allows for the exchange and addition of modules after installing the equipment. This makes changing processes and upgrading functions easy. Since high-speed swing arms transfer components between the modules, handling time is reduced and modules may be changed. Our dedicated laboratories can meet your needs for design changes and introduction of new cleaning processes.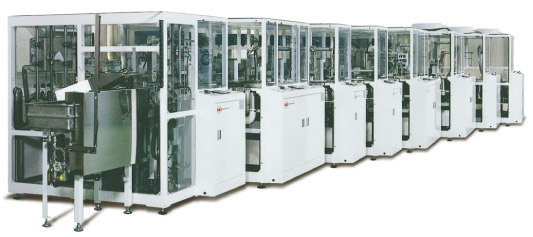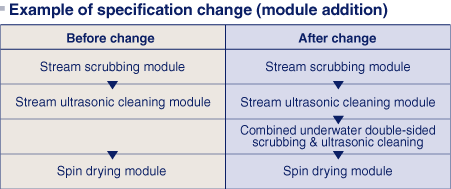 ---
We are having trouble because contaminants removed from components re-adhere to them.
How can we solve this problem?

---
Our stream cleaning system employs a dip cleaning method that creates a backward flow of cleaning fluid away from the direction components are carried in the cleaning bath. Since contaminants removed from components flow downstream and are discharged, their re-adhesion is minimized. Furthermore, the cleaning fluid flows uniformly without interfering with ultrasonic transmission, resulting in effective ultrasonic cleaning.
---
| | |
| --- | --- |
| | We don't get the cleaning effects we expected. We think that the cleaning fluid or brush is problematic. Are there any suitable selection criteria? |

---
| | | |
| --- | --- | --- |
| You need to check not only cleaning fluid but also the equipment. It will be impossible to solve this problem unless cleaning fluids appropriate to the contaminants on the components are selected and the cleaning brushes are of shapes and materials suitable to the cleaning methods used. We can take charge of analyzing contaminants on components. We have special laboratory rooms and can help you select the best consumable cleaning materials through tests and demonstrations. | | |
| | | |
---
| | |
| --- | --- |
| | We have no equipment and cannot conduct tests, though we need to investigate new cleaning processes. We want to establish new cleaning processes as soon as possible. |

---
We have Class 10, Class 100 and Class 1000 clean rooms, ultrapure water equipment, and various measuring instruments, and can propose a wide variety of cleaning processes through tests and demonstrations. We also select and design brushes, cleaning fluid and cleaning jigs suitable to cleaning.
---